I've decided to streamline my online business, Beauty Box, by shutting down the Singapore store and focusing on the North American market. My store still remains the same at
http://store.beauty-box-online.com
, and this blog will move to
http://www.beauty-box-online.com
.
In terms of topics, not much will be different — I'll still talk about Japanese beauty products and trends, and how beauty and health and wellness are all strongly tied together.
See you over on the other side! More posts coming soon...
Hi everyone, thanks for coming by Tokyo Powder Room. With the new year upon us, there have also been changes on the blogging front.
I had a fun week of going out and entertaining friends over the
Chinese New Year
period but my body reached a point where it protested, "Enough is enough." My skin was breaking out and I felt extremely heavy in a water-retentive way.
So I've been
obsessed
with the
Raw Food Diet
. I began reading about it late last year but only with an intellectual interest — I viewed as an extreme way of living, but I gradually changed my mind the deeper I got into it, particularly after my recent binge on rich food and alcohol.
I also wrote a freelance article about the importance of enzymes in raw fruit and vegetables, and cooking them for more than two minutes kills off about 70 to 80 per cent of their nutrients. So your food is almost
dead
.
This bothered me a little, so I introduced more raw vegetables to my diet. For example, I used to cook everything when I threw together a pesto pasta dish, but after writing that piece, I left the capsicum and mushrooms raw.
Anyway, the raw diet not only helps you lose weight but it detoxes your body inside out. If you look at raw foodists, they look ageless and have skin of fairies and other non-existent nubile creatures.
I was completely intrigued
.
I experimented with
raw recipes
by
Karen Knowler
, aka The Raw Food Coach, this past week and I was hesitant to try the green smoothie because of the way it looks.
Chunky, green slush — ew. But trust me, it tasted divine. She used a large mango and spinach in her
demo video
, but I switched to mandarin oranges because I have so many. It's easy to make and you've got to try it to believe it.
You can use any leafy greens combined with a sweet, citrus fruit and I've got all these awesome ideas in my head right now. Celery is also fantastic for your skin. I saw an ex-colleague, whom I worked with at an online music company, transform her skin from pimple-ridden to being clear within a month of drinking pineapple and celery juice with her lunch daily.
I never knew green smoothies could taste so yum and I'm going to have one everyday. Spinach is a good place to start because it's naturally sweet so your smoothie won't be bitter.
Right now, my philosophy is not to spend exorbitant amounts of cash on expensive creams to achieve supple, clear skin, and I believe that if you treat your body well, it will reflect that on the outside. Wish me luck on my raw journey!
Photo:
Westcoast Weezie
You know, I love my products, but there is an unwavering truth about beauty starting from within.
The super dry air actually makes me feel a little ill
, and what's also mortifying, the skin on my hands feel tight and my cuticles are peeling — ouch.
If I did buy hand cream in the past, it was because it was an excuse to have one more sweet-smelling product for myself.
I indulged in a bottle of L'Occitane Lavender Hand Lotion a couple of years ago (I still have loads left so you can tell how often I use it). It smells absolutely gorgeous and I smear it on before bed just to feel relaxed and ready to drift off into slumberland.
It's a light hand cream that doesn't feel sticky but it doesn't hold up well in Tokyo's current dry conditions. I had to re-apply it after a short while and my skin still peeled.
For a small travel-sized hand cream, I got
Neutrogena's fragrance-free Norwegian formula
just before my
Nepal trip
in late 2007. I thought it could double up as a spare moisturizer if I ran out, but I hardly used it. OMG, the air in Tokyo is drier than Kathmandu's. Ugh.
Anyway, it's "functional", as in it does the job but has a sticky feel to it which fades only after a long while but I can tell that there's
something
on my skin. Also, a big blob takes a long while for it to be absorbed and I had to keep rubbing what felt like a paste on my hands.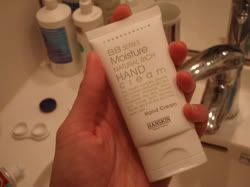 After dropping off
Beauty Box
packages at the post office, I swung by the
kusuriya
with a mission to save my hands from further discomfort —
BB Hanskin
. I got the Moisture Natural Rich Hand Cream (814JPY) and not Water Drop because I need all the hydration I can get!
I read quite a few rave reviews about this Korean brand's Super Magic BB Cream and I guess it makes sense to have some of that special touch on my parched hands. The label reads, "The cream contains glycerin and sodium hyaluronate…" so I thought, "That sounds pretty moisturizing to me!"
Verdict: There is still a very thin film of lotion I can feel, but it's not unpleasant and it doesn't get in the way of typing on my Mac. The scent is wonderfully light and reminds me of Crabtree & Evelyn's Goat's Milk range. The fragrance fades fairly quickly so it never overwhelms my nose while I'm going about my day. It's more affordable than Avene's famed
Cold Cream Hand Cream
at 1,250JPY and feels more luxurious to the touch than cheaper, less absorbent moisturizers.
I've to tell ya, I never paid attention to hand cream before this cold, dry winter in Tokyo.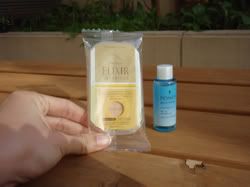 Japanese service is awesome. The cashier at the Kokumin pharmacy near my apartment made an error by overcharging my credit card for my purchase. After correcting the transaction and many apologies later, they also gave me two samples as a token gift.
The boyfriend's mum actually loves
Shiseido Elixir
beauty products and asks me to help her stock up whenever I visit Sydney or if she is in Tokyo. Their skin care products smell lovely and the kangaroo's mum swears they are perfect for dry skin.
This shade suited me very well and it gave moderate to heavy coverage. I was going out to dinner that night and was in the mood to dress up a little bit more, so this foundation helped me achieve a more finished look, as opposed to the sheer
Clinique Super Balanced liquid foundation
I usually use.
I do understand that this Shiseido range is targeted at mature women but I'm not so concerned about brand image as long as it caters to my needs. My skin is probably classified as oily/combination but this foundation didn't feel too cakey and had good staying power.
It's priced over 3,500JPY for a compact, which is reasonable. Would I buy this again? Yes, if I'm not traveling through any duty-free shops in airports.
And how was the Pond's cleansing oil? Not good, as it doesn't take off all traces of makeup. After I swiped my face with a cotton pad soaked with toner, the cotton pad removed quite a bit of foundation left on my skin.
I wasn't going to go crazy and haul back a bunch to Tokyo — limited luggage space. So I allowed myself one treat: The Body Collection Australia Mango & Shea Butter Body Exfoliating Polish.
It's a creamy, fluid scrub with real bits of apricot shells that is not as gentle as plastic beads but not overly harsh.
The overall experience is a comforting shower regime that leaves skin a little smoother.
I think if you want something that has a more dramatic effect, you would need to reach for something like
The Body Shop's African Spa Salt Scrub
.
I probably may not buy this tube again but it's not because I don't like it but I won't be able to find it in Tokyo.
And there are way too many brands Down Under to try! Seriously, the huge chemists (or pharmacies) stock an incredible range of domestic brands that all look and sound like they could be good beauty companions for a beach holiday.
PS: I couldn't spot any of the products in my
Allure write-up
. I think Australia probably gets new products quite a while after they are launched in the US. Boo. Oh and Sydney has rainy weather now so no beaching in bikinis till the sun comes out.
The excellent thing about the world of Aussie beauty products is you'll find lots of natural ingredients that smell divine.
I've heard of
collagen ramen
,
collagen candy
and
slipping collagen into nabe
(hot pot) (this was
all the rage
last year in the Japanese restaurant scene in NewYork).
But Fancl has definitely stepped up the competition by putting their reputable brand on food products — from bread to desserts. All these items cost below 500JPY, which is not bad at all for "fancy" collagen.
HTC Collagen
is their own collagen formula that has three kinds of amino acids which is more effective than standard collagen.
You can read it in more detail at
Trends in Japan
.
I find it amazing at how beauty brands in Japan spread their brand and product range. Fancl has recently paired up with different food companies and added their own HTC Collagen.
Allure
is to beauty, like
Vogue
is to fashion, so each issue of Allure is like a fantastic buffet of beauty products to gobble up.
While I was browsing its online site recently, I spotted a few lovely affordable beauty buys I might want to get when I fly to Sydney for Christmas — and that's just next week!
Some of these brands are available in Japan but I'm keen to check out these four Allure picks because they are either not sold here or they are more expensive.
Revlon ColorStay Soft & Smooth Lipcolor, $9.99.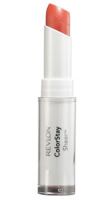 L'Oréal Paris Liquid Liner Brush Tip Liquid Eyeliner ($7.99)

St. Ives Elements Microdermabrasion ($6.99)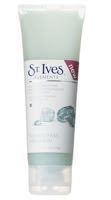 Pantene Pro-V Restoratives Time Renewal Replenishing Mask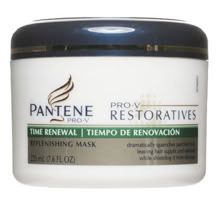 Actually I'm one who likes to travel with products that are familiar to me. I would squeeze all kinds of shampoo, conditioner, moisturizers into mini containers or if it's a long trip, I'll just take along the full size product. In this way, I wouldn't have to go without the stuff I know that
works
.
But the boyfriend bought us Jetstar tickets and we are only allowed one large check-in suitcase (20kg) between us. EEP! What is a beauty junkie to do? Plus my shoes and bags?! I didn't panic for long because Australia is chock full of
awesome
beauty products, so look out for incoming posts about what I find Down Under.
Sekkisui
at Seven Eleven,
I wondered if it was worth trying
because some sub-brands here are a bit touch and go. I have no idea if Sekkisei or Sekkisui truly whitens skin, but I found the basic set to feel and smell great.
The White Washing Cream is pretty foamy, which is something I love in a facial wash, and it smells divinely comforting — the sort of feeling you should have before you climb under the sheets.
The Pure Whitening Lotion is refreshing on the skin so it has that wake-up effect and perfect for sleepy mornings.
The only complaint I have is there is ethanol in these two products, which explains the squeaky clean feeling you get. I think alcohol is sort of unavoidable in budget products in Japan so I would only recommend this for summer. My skin felt a bit tight as it's winter now, but there was nothing a rich night cream couldn't fix. The most important thing was I didn't break out despite the ethanol.
Lastly, the Cleansing Oil totally rocks. It's not very oily (feels more like a thick toner) and exudes a powdery fragrance, and the best part is, it takes off all my makeup, including waterproof mascara, with only four or five shakes from the bottle. After swiping my skin with the Pure Whitening Lotion, I didn't see much residue at all.
A 100ml bottle costs only 940JPY (and comes with a pump), so it's very affordable for such a good product. My skin is sensitive but it seems to behave with fragrance so I would give this one top marks for sensory and utility factors. Would I buy this again? YES. And I'm taking this set with me to Sydney, 'cos it's SUMMER TIME!
When I spotted
Mandom Beauty's Cleansing Express
all-in-one make up remover/cleanser/toner.
The tagline, "Ready for bed as soon as possible!" caught my eye on the train and there was a cartoon of an OL (office lady) looking all tired on the couch with limbs entangled in a colourful heap.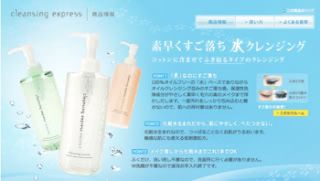 Apparently, all you need to do is squirt some of this magic liquid onto a cotton pad, wipe off your war paint, splash your face with water (optional), and then moisturize.
I thought it was in the budget range of cleansing oils and was about to dismiss it, since I have heard nasty reviews of cheap brands like Ponds and Biore. But my itchy fingers did a search on the Internet, and what I found out was, there's no alcohol in this huge 300ml bottle. At only 950JPY at pharmacies, it's definitely on my to-buy list.
There are three versions: Sebum, Moist, and Agecare. Here are some rave reviews by other beauty bloggers:
Musings of a Muse
,
Lady L
, and
La Belle Cose
.
I totally went gaga after I read how each and every one of them removed stubborn waterproof eye makeup and didn't feel any residue on their skin after.
Although I'm a fan of Fancl's Cleansing Oil and
DHC's Deep Cleansing Oil
, I'm interested to give this one a go because
it feels like water
. Wow. It's available in the US for USD13.99 on
webichi
and it's SGD16.90 in Meidi-ya at Liang Court.
The latest product on my radar is
tsubaki
, or the camellia flower, is more well known to people outside of Japan because of
Shiseido's lovely Tsubaki range
(I would definitely choose Tsubaki White over Red as it's less rich). It's definitely affordable and looks really chic.
But from what I understand, there's an "original" Tasubaki oil…
It's something mothers and grandmothers use to protect their locks from the dry Japanese air. Or that's what I think from the packaging (that's my only complaint). Apparently it's the number one Tsubaki product in Japan, according to top beauty review site
cosme
.
I actually tried it once when I stayed overnight at a Japanese ex-colleague's home for
a snowboarding trip
. His wife fussed over me after my shower and offered some of her Oshima Tsubaki oil, which is 100 per cent pure oil.
I thought it made my hair glossy and soft to the touch — though I did come away thinking though it smelled very good, you would have to be careful not to put on too much. At the time, I had no idea where to purchase it.
One of the things I love about knowing how to read Japanese is I can sort of figure out which products are for what and I kind of understand what beauty product ads say.
I'm a big fan of
Asience's Beauty Mist
, which is a conditioning spray that made my slightly wavy hair straight. With so many beauty products to try, I'm giving this the Beauty Mist a break.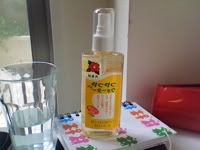 Instead of the oil, I chose to try the Tsubaki
tsuya tsuya
water and I was surprised to find that it makes my hair so soft after blow-drying it. It also gave my hair a bit of bounce. Highly recommended and very affordable at 1050JPY for 150ml.
Update:
After using this for a few weeks, I suddenly experienced acne and rash break outs on my neck. I juggled around my hair products and came to the conclusion that this spray has been the cause of my skin irritation. I've got sensitive skin but can take a little fragrance in my products, so I think my threshold is a little lower than your average gal.
I think the word